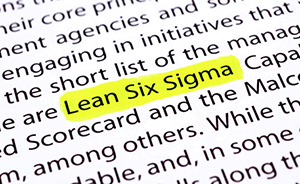 I started this site a few years ago to help people understand what people mean when they say "Lean Six Sigma." It sounds pretty darned scary. But it doesn't have to be hard to understand or to implement, either in your work or in your personal life. Heck, once you understand it, you'll find more and more uses for applying these cool concepts.
The problem with the site has been that a sort of "internet kudzu" took it over. there was an auto-posting algorithm to collect stories about lean and six sigma (not the same things at all, by the way) and put them on this site. I got busy with other internet endeavors, and…well, I came back to find the site buried under all that imported ivy (this is a weird metaphor, but seems apt), making it hard to see what was worth reading and what was just worthless weeds. So I've (hopefully) removed all the foreign interlopers, ploughed the ground under and one fresh, new seed – this post.
My hope is that the gardener (that would be me in this increasingly weird metaphor) will go get some more good seed and come back periodically and plant it here.
I apologize for any hassle all this may have caused. But I'm hopeful this can become a useful resource for learning about the really quite fascinating concepts of lean and six sigma.